Hi there!
Nathalie with you today! Today I am going to answer two of the most asked and requested questions: 1. How to add mixed media to patterned paper?, and 2. Black backgrounds?   Well, how about I combine both answers in one project...
Patterned paper is as sturdy material for mixed media, however GESSO and patience are the keys to being able to mix these two for your projects.   
I started by adding gesso to the b side of the Stardust paper with a brush.  Once the application has completely dried, I proceeded to add diluted black art crayon to create my watercolor background.  The keys to achieve a flat background ( well almost flat) are to make sure you apply plenty of gesso to the paper, letting the layers dry completely, and only adding mixed media to the gessoed area of the paper.
Once the watercolor dried, I used Prism glaze, a stencil brush, and one of the new stencils to create the small pops of color, texture and shine on the background.  I diluted the leftover glaze with a bit of water and used it to add splatters on the background.  This has to completely dry before we can carry on with building the page.
I used pieces from the Bohemian paper to back the pictures, then added extra layers of paper from the 6x8 paper pad.  I created a cluster at the two further corners of the pictures.  Here I mixed pieces from all the embellishment sets to bring sentiments to the page.
To complete this page, I used pieces from the Tag book, and alphas from the Thicker set.   Just a few extra stickers and lines of journal complete the page. I have created a video that shows you how the page comes together, enjoy:
I hope this helps to answer some of the questions that regularly pop on my social media.   Remember to share with us any project you create with these techniques and Vicki's projects,

XO
Materials used ( with links)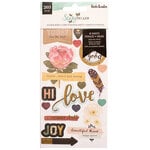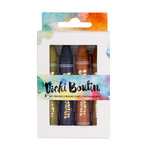 ollection - Creative FX Art Medium - Prism Glaze" src="https://www.scrapbook.com/products/cache/SBC_ac-355344_161297_1.jpg" border="0">